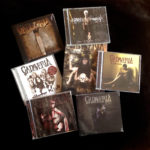 "The Dark Bundle" is your unique opportunity to get the entire discography and videography by CADAVERIA at a VERY SPECIAL PRICE.
This exclusive set includes: 6 CDs ("The Shadows' Madame" 2013 jewel case edition, "Far Away From Conformity" 2017 digipack edition, "In Your Blood" jewel case, "Horror Metal" undead edition jewel case, "Silence" digipack, "Mondoscuro" EP jewel case) and Karma double DVD (*).
Are you a vinyl collector? Contact cadaveria [at] cadaveria [dot] com to enrich this offer with CADAVERIA limited edition vinyls and get an additional discount!