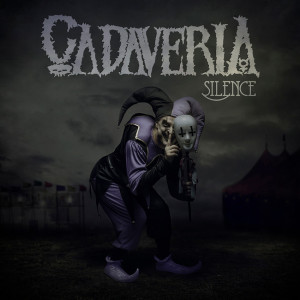 Horror metallers Cadaveria have revealed the details of their new album 'Silence', out on November 18th on Scarlet Records. Tracklist as follows:
Velo (The Other Side Of Hate)
Carnival Of Doom
Free Spirit
The Soul That Doesn't Sleep
Existence
Out Loud
Death, Again
Exercise1
Almost Ghostly
Loneliness
Strangled Idols
'Silence' follows the critically acclaimed album 'Horror Metal', released in 2012 on Bakerteam Records, which gained enthusiastic consent worldwide and led the band on tour from Europe to South America for most part 2012 and 2013. It was mainly composed in 2013 and recorded between May and July 2014 in three different recording studios owned by the band itself. It features eleven brand new tracks for a total running time of about 47 minutes, described as the perfect soundtrack for a contemporary horror movie, set in dark cellars, smelling of incense and seeping pain, rage and melancholy. The atmospheres are cryptic and otherworldly, but the mood and the musical approach are strikingly aggressive and concrete.
The lyrics, written by singer Cadaveria, swing between the afterlife dimension and reality, unveiling the soul of their author as never before. This is how Cadaveria herself commented:
"'Silence' is an immense and supreme 'sound-folly' that celebrates the capriciousness of destiny, the fugacity of life and the eternal presence of darkness in light. An instinctive impetus made of pure emotions, calibrated by awareness and experience. This album represents our maturity as musicians and the highest and most sincere expression of myself as an artist and as a woman. These new compositions are extremely gloomy and sinister, but they give off an explosion of power, intense energies and deep sensations. 'Silence' will guide you into a carnival of imagination and reality, where doom and free will are playing their last chess game. I'm sure it will leave many people speechless. Silence!"