Live reports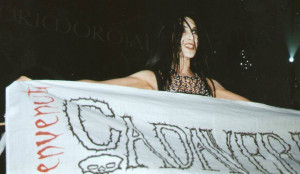 Here we go with some live report of our last show at Rock 'n' Roll Arena together with Primordial:
LATEST RELEASES
| | |
| --- | --- |
| | Silence |
Karma
Double DVD
SILENCE TRAILER
LATEST VIDEOS
CONNECT TO CADAVERIA
JOIN OUR NEWSLETTER
2016 LIVE DATES
UPCOMING SHOWS 2016:
21 May - Rock Metal Camp - France
02 July - eResia metal Fest - Italy

CHECK THE TOUR PAGE TO SEE ALL THE SHOWS
PAST SHOWS (2016):
16.04.2016 Italy, Borgo Priolo (PV) Dagda Live
27.02.2016 Italy, Cremona Midian Live
26.02.2016 Italy, Calenzano (FI) Cycle
30.01.2016 France, Chambéry Brin de Zinc
29.01.2016 Italy, Milan Legend Club
CLICK HERE FOR MORE DETAILS ON LIVE SHOWS
PAST SHOWS (2015):
05 Dec - Erba - Italy
04 Dec - Saint Maurice - Switzerland
07 Nov - Milan - Italy - w/Cradle of Filth
06 Nov - Rome - Italy - w/Cradle of Filth
04 Nov - Treviso - Italy - w/Cradle of Filth
30 Oct - Hameln - Germany
29 Oct - Erfurt - Germany
26 Sep - Cassano d'Adda (MI) - Italy
25 Sep - Padova - Italy
25 Apr - Turin - Italy
24 Apr - Genoa - Italy
19 Apr - Leon - Mexico
18 Apr - Queretaro - Mexico
17 Apr - San Luis Potosi - Mexico
16 Apr - Puebla - Mexico
15 Apr - Mexico City - Mexico
11 Apr - Busto Arsizio (VA) - Italy
10 Apr - Brescia - Italy
08 Mar - Kaluga - Russia
HIGHLIGHTS
| | |
| --- | --- |
| | Cadaveria in Metalholic Magazine's top 25 women in Hard Rock and Metal for 2014! |
| | Cadaveria featured on Legendary Rock Interviews! |
ENDORSEMENT
CADAVERIA ON FACEBOOK
Facebook Status
May 26, 2016 at 16:07
CADAVERIA + NECRODEATH = MONDOSCURO

MONDOSCURO will be the title of the EP involving CADAVERIA and Necrodeath, currently in the studio together to complete the mix of what promises to be the most diabolically unusual release of 2016.

The title refers to the cinematographic genre "Mondo film" of explicit documentaries, born in the 60s and depicting sensational, bloody and shocking scenes. MONDOSCURO also clearly recalls Mondocane project, the legendary collaboration of Necrodeath and Schizo from which the album "Mondocane: Project One" was born in 1989.

MONDOSCURO will not be a normal split, but a joint partnership that will see the two bands interacting strongly, through a track-list that alternates new songs to covers and that will include many identity exchanges.
The EP will be released in a few months via Black Tears of Death.
Stay tuned for more details!

#cadaveria #necrodeath #mondoscuro #ep #blacktears #comingsoon #cadaveria2016 #15yearsanniversary #news #share

MONDOSCURO sarà il titolo dell'EP che vede coinvolti CADAVERIA e Necrodeath, attualmente in studio insieme per completare il mixaggio di quella che si preannuncia essere l'uscita discografica più diabolicamente insolita del 2016.

Il titolo rimanda al genere cinematografico "Mondo movie", proprio dei documentari espliciti nati negli anni '60 e diventati famosi per le loro scene cruente, bizzarre e scioccanti. MONDOSCURO rievoca inoltre chiaramente il progetto Mondocane, storica collaborazione che vide impegnati Necrodeath e Schizo e da cui nel 1989 scaturì l'album "Mondocane: Project One".

MONDOSCURO non sarà quindi un normale split, ma una collaborazione congiunta che vedrà interagire fortemente le due band, in una scaletta che alternerà brani inediti a cover e che prevederà molti scambi di identità.
L'EP sarà rilasciato tra pochi mesi da Black Tears of Death. Restate sintonizzati per maggiori dettagli!
May 22, 2016 at 19:51
Thanks RockMetalCampFest! Always a pleasure to come back to France!
#cadaveria

Photo: Christophe Brechard
RECENTLY ADDED OR UPDATED
CATEGORIES