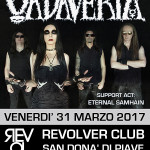 CADAVERIA announce Italian live shows for 2017:
March 31 –  Revolver Club – San Donà di Piave
May 6 – Daevacian – Bruino
May 20 – Metal Queens Burning Night Fest – Bollengo.
Few opportunities to see CADAVERIA live this year with a brand new set list!
For more info please visit the "Tour" page.