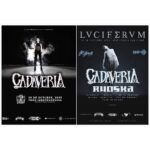 On September 30th we released a statement on our Facebook page to inform our Mexican fans that we were experiencing problems with the two concerts scheduled in Mexico on October 26 (Guadalajara) and 28 (Luciferum Festival – Mexico City) 2023, because the Mexican promoter, Jorge Figueroa Tapia of Black Phoenix Agency, kept finding excuses for not buying the plane tickets, which, according to the signed contract, should have arrived before the Summer. A few minutes after our post was published, Luciferum Festival Facebook Page commented it, saying that the event had been cancelled, due to low participation. We answered their comment and in a short time hundreds of fans reacted and unmasked the promoter, essentially defining him as a serial scammer.
It is our desire to give correct information to our fans. So let's tell you about the current state of affairs. Luciferum Festival has removed the comment on our post (which however you can see here thanks to the screenshot), on the festival's social pages there is currently no cancellation statement (there was one but they deleted it), no official information has been given regarding the Guadalajara date and if you click on the ticket sales links now, the concerts can still be purchased (see screenshot 1 and screenshot 2).
At the moment our inbox is full of messages from fans who regret what happened. Many are sending us evidence of the promoter's bad faith and testimonies of frauds committed in the past. We want to tell you who follow us that this does not change our opinion on Mexico, we continue to love our Mexican fans and we will try to come and play there for you. Now you have to try to get your money back and if this method is not accurate, send a complaint directly to the sites through which you purchased the ticket.
We are very sorry for what happened. You have no idea how much time we spent on this thing, how much time was wasted for nothing by the band and the people who work with us. In the past Summa Inferno portal, owned by the promoter, supported us. We also saw that in May 2023 this promoter brought another band to Mexico. These things gave us hope for the success of the mini tour. We have always acted in good faith in attempting to finalize these concerts. To say that the event is canceled due to low attendance is a big lie: the real promotion should have started after the airline tickets arrived. It's clear that without tickets in our hands we no longer advertised the gigs. The numerous comments and reactions on our Facebook posts testify (in case any proof was needed) that in Mexico we have a large audience that supports us. Getting us to play there and filling the venue is easy. Let's hope the next promoter who contacts us will succeed!