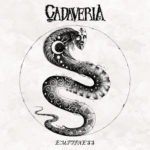 Since yesterday the title track for CADAVERIA upcoming new album "Emptiness" is available in all digital platforms for stream and download at THIS LINK.
Today we are proud to unleash "Emptiness" official lyric video.
Cadaveria herself: "The emptiness of which I speak is not the nothingness, is not the oblivion, but the cosmic emptiness, the 99.9% of the Universe, that we do not know and that, however, is not empty at all. And it is above all the emptiness of the mind, that I aspire to reach through meditation, the absence of thought, which sets free. So we must not be afraid of emptiness."
Watch the video below.