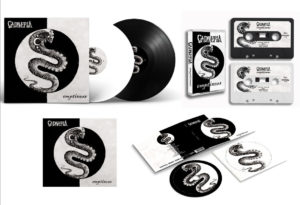 Our sixth album "Emptiness" comes almost eight years after our last full length "Silence". The four singles ("Matryoshcada", "Divination", "Shamanic Path", "The Woman Who Fell to Earth") digitally released between December 2020 and June 2021 now converge into "Emptiness", along with other seven not previously released songs.

"Emptiness" is the definitive album from CADAVERIA. A majestic work that seals the artistic and human path of the band.
Presave "Emptiness": https://bit.ly/cadaveria-emptiness
Release date: May 27th, 2022 via Time To Kill Records.
Tracklist:
01 – The Great Journey (04.55)
02 – Shamanic Path (05.10)
03 – Emptiness (05.00)
04 – The Woman Who Fell to Earth (05.52)
05 – Divination (03.07)
06 – Matryoshcada (05.09)
07 – Silver Rain (04.24)
08 – The Cure (04.52)
09 – Life After (04.35)
10 – La Casa dell'Anima (04.55)
11 – The Sky That Screams Above Us (05.33)
12 – * Return (04.04) – Deine Lakaien cover * bonus track, on the vinyl version only
Besides on digital platforms, "Emptiness" will be available in the following physical formats: Digipack CD, double LP (one white and one black, with "Return" as bonus track), white cassette, black cassette.
As you can see the whole visual concept is inspired by the tao symbol and is based on the interpenetration of light and darkness.
Preorder your copy at this link together with CADAVERIA "Emptiness" and "The Shadows' Madame" brand new t-shirts and long sleeve shirts.
Visit www.cadaveria.com/web/shop
Watch the Album Trailer: