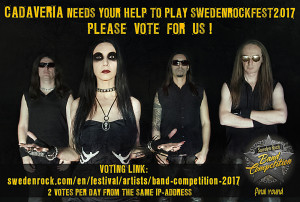 All right, CADAVERIA are in the final round of Sweden Rock competition. We really need ALL YOUR SUPPORT during these eight days to go and play this festival.
Here's the voting link:
http://swedenrock.com/en/festival/artists/band-competition-2017
Please place 2 votes every day from now 'till Feb 8th.
Just select "Cadaveria-Italy", enter the captcha and click "Submit".
United we can make it! Thank you very much!