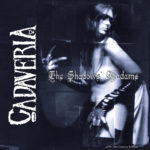 We celebrate with you 20 years of our debut album 'The Shadows' Madame! The special 20th Anniversary Edition is OUT NOW via Time To Kill Records !
03/03/2002 ⇢ 03/03/2022: exactly twenty years later!
Stream / Download https://bit.ly/tsm20thae
Buy Vinyl / Cassette from our webshop and get free Signed Poster / Picture http://bit.ly/shopcadaveria
Get exclusive T-Shirt + Vinyl / Cassette Bundle https://cadaveria.bandcamp.com/merch
Tracklist: 1. Spell 2. Declaration of Spiritual Independence 3. In Memory of Shadows' Madame 4. Circle of Eternal Becoming 5. Spell (Live Rehearsal Version – 2001) bonus track 6. The Magic Rebirth 7. Black Glory 8. Absolute Vacuum 9. VELO (The Other Side of Hate) bonus track, from Silence album
We are delighted to release the Lyric Video for 'In Memory of Shadows' Madame' track. Enjoy!