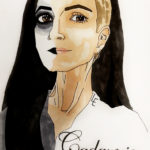 This design made by a talented fan of me captures my essence: the new me transformed by the experience of cancer and what remains of my past. Strange how she drew the right side as the dark one: did she know it's the side where I got cancer? Nothing happens by chance.
I suffered, I brought my body to the limit. I believed this path would have lasted few months while it lasted more than a year: 18 months on a roller coaster.
It has passed but it is not forgotten and should not be forgotten, also to avoid nullifying the efforts I made in ignoring the gazes on my bald head, which I showed to try to break down a taboo. It is not forgotten because it transforms you and I am now the result of that change. A non-definitive result.
There are so many me inside me, they come in succession, quickly; so many versions, imperfect shades. They come and go and some of them never come back. I let them go, sometimes with nostalgia, because I am a bit sorry to lose them, but at the same time I watch them pass by, break away, and I'm happy. Wraps of me, layers, matryoshkas, epithelial exfoliation of a human being, necessary for my renewal, for a growth that is taking place, that I live and of which I am a spectator. Aspects – so many! – even of me as a little girl, who come back, recur for a moment, like on a carousel that turns. A succession of concrete and disarming emotions.
There is silence, the sound of breathing, the vibration of meditation.
One day I think the music will come back too. I don't look for it, I let it find me. There are other paths in progress at the moment and the energies are still small, there is no need to worry.
It will come, when the time comes.
Thank you,
Cadaveria
[Cadaveria herself. Drawing by Lorelei_Ether (Anna)]