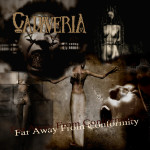 Exactly 13 years ago, on January 12, 2004, "Far Away From Conformity" was released. The second chapter in CADAVERIA history, the album that defined and sealed the band's autonomous and complex style, away from the stereotypes and trends of any pre-existing genre.
CADAVERIA are proud to announce that "Far Away From Conformity" will be reissued in March 2017 with a new look and sound. Additional vocals recordings, a complete re-mixing and re-mastering have given new life and vibrations to this for long time sold out opus! The artwork retouch, inspired by the original design shown here, is in process and CADAVERIA is looking forward to revealing the new cover artwork and the release date details!
Long-standing fans and new listeners will not be disappointed!
"Far Away From Conformity" will be reprinted first on CD and a vinyl version will follow this Summer. Both editions will be released via Sleaszy Rider Records.